The Great Plague and Fire of London
1665 -1666
The Great Plague that began in 1665 killed an estimated 100,000 people in London, almost a quarter of the city's population.
In 1664 Sir John Lawrence had been elected Lord Mayor of London and at the same time was again elected Master of the Haberdashers' Company. It is also known that Sir John as Lord Mayor was one of few 'great men' of the city to remain in London at the time. 

According to the Venetian ambassador, he had a glass case made for himself in his house in St Helen's Place, from within which he supervised business and received visitors. British History Online, citing a contemporary account, says: 

'Amidst the factions and the vulgar citizens of this reign, Sir John Lawrence, Mayor in 1664-5, stands out a burning and a shining light. When the dreadful plague was mowing down the terrified people of London in great swathes, this brave man, instead of flying quietly, remained at his house in St. Helen's, Bishopsgate, enforcing wise regulations for the sufferers, and, what is more, himself seeing them executed. He supported at his own expense during this calamity 40,000 discharged and abandoned servants.'
Then - as the plague eased - on 2nd September 1666 and for five days that 'most horrid malicious bloody flame' known as the Great Fire of London destroyed much of the old City. Assembling on the 2nd October at Cook's Hall in Aldersgate Street, the Assistants of the Haberdashers' Company contemplated the wrath of God. They declared themselves:
'… very sensible of the great Displeasure of Almighty God which hath been lately manifested against this City in the late dreadful and lamentable fire, and how deeply with the rest of the City this Company and members of it do suffer thereby (their Hall and most of their houses in London being consumed)'.
Their desire, they continued, was 'to implore the mercies of the Divine Majesty for sanctifying this heavy hand and averting the further effects of his just wrath against us'.
Dr David Bartle
The Archivist
The Lord Mayor's Show 1632
'London's fountain of arts and sciences' was the Pageant in 1632 held in honour of Sir Nicholas Rainton, Haberdasher Lord Mayor: 'Exprest in sundry triumphs, pageants, and showes, at the initiation of the Right Honorable Nicholas Raynton into the Maiorty of the famous and farre renowned city London. All the charge and expence of the laborious proiects both by water and land, being the sole undertaking of the Right Worshipfull Company of the Haberdashers.'  Written by Thomas Haywood. What follows is a summary of this Pageant's dramatisation:
| | |
| --- | --- |
| | Style of a Lord Mayor, c. 1630 |
 

SIR NICHOLAS:

What a day of memories this has been...
I must now only hope and pray that I, Nicholas 
Rainton, can live up to the honour London does 
me by calling me Lord Mayor

Yes, what wonderful pomp and pageant I have been 
treated to this-day dunng my procession...
 
At first, I was conveyed by a fleet of barges so 
richly decked, their flags fluttering in the breeze 
as fireworks and cannon fire burst joyously above us.
 
And, as we passed by, the pageant's first actor 
presented me with Arion, musician from Greek 
mythology, who it's said once rode on the backs 
of dolphins...
 
ARION: 
Fair Thames, upon whose silver breast, 
Arion with his Dolphin now doth rest 
How I admire thy Glory State and Pride 
Upon this solemn day thus beautified...
 
Behold this Day the Honour and the State 
Of this Great and God-like Magistrate...
 
SIR NICHOLAS: 
The river itself, you see, was presenting itself as a 
symbol of the might and power of London -
and, by  extension, of all England.
A powerful reminder of the  great responsibility now bestowed upon me. 

After swearing my allegiance at Westminster, more wonders were
to come as my procession passed through the streets.
The next actor gave us St Katherine, the patron saint of my guild — the Haberdashers. So splendidly mounted upon a sculpted lion, she spoke:
 
St. KATHERINE: 
Behold, and view who attendants be, 
Constancy, Zeal, Truth and Humility. 
Be constant then unto this Grand Lord Mayor, 
And the two Sheriffs that his assistants are...
 
Between Power and Obedience, so shall all 
Arts, Mysteries, and Trades Mechanical 
Thrive, prosper, and increase, so long as they 
Honour the King, and Magistrate obey.

SIR NICHOLAS: 
And that, you understand, was the Saint's command 
for all present to support our King and myself, his 
Lord Mayor of London.

Next, as our journey progressed, we were met by 
noble Perseus, hero of Greek mythology and rider 
of the fabled wing'ed horse Pegasus.

PERSEUS: 
Observe Grave Sir, the arms and shield I bear, 
Such as yourselfe and others ought to wear, 
Both for defence and offence, and in me 
Emblem-ed all those prime virtues that should be 
In persons of your Powers my sword resembles 
Unpartial justice at which guilt still trembles.

SIR NICHOLAS; 
In that, the warrior was reminding me of my sworn 
duty to protect with justice those who cannot protect themselves.
And then, an amazing new spectacle met our eyes.
 
As we moved onward, the colossal effigy of an 
elephant came into view, led by a man of India. 
upon its back, the great beast carried the likeness 
of a castle... and the Indian spoke his words to me.
 
INDIAN: 
He bears a Castle; as this day we see, 
But of what strength and puissance must you be 
Supporting this great City? Who must lay 
Your shoulders to a burden, such as may 
Make Atlas shrink beneath it;
 
Yet such an Elephant we hope to find 
Of you, both in the ability of mind 
And strength of Arm, by that encouragement 
The former passage of your life hath lent: 
Showed in your Judgement and Experience 
Your Gratuity and unchanged Temperance, 
All general Virtues that become such State, 
Behoveful so Great a Magistrate.
 
SIR NICHOLAS: 
And in those words this man of India reminded me 
of the strength I will need to support this great city 
on my shoulders and the wisdom expected in a Lord 
Mayor of London.
 
And then the flnal spectacle - a fountain.
Here, my position as Lord Mayor was likened to 
a fountain of virtue, from which all arts, sciences 
and trades are watered. 

Arrayed around the fountain model were twelve men dressed in the colours of the twelve guilds, of which mine, the Haberdashers, is one. From the fountain's heart, another man spoke his message to me...

'FOUNTAIN': 
London the Mother and the Fountaine styled 
And you of all her sons now eldest child, 
Heir to her great good works encourage still 
These pious acts and by example fill, 
Void places with the like, and in this State 
You bear as being now. chief magistrate 
So order this your numerous Charge, that they 
May God, the King, Yourself Serve and Obey.
 
SIR NICHOLAS: 
And so, as my great day draws to an end, 
so my great responsibility begins. As I have been 
so wondrously reminded through this, my pageant. 

Dr David Bartle

The Archivist

 
---
Frosty-Faced Fogo
A Hard-Hitting Non-Conformist at the Hall
Discoveries about the past of the Company, its Hall and members can sometimes occur as the result of enquiries to search our archives. So it was with the curious story of one John 'Frosty Faced' Fogo. 
A descendant of this colourfully named man contacted me some months ago to find out more about his family who lived near our Hall in the City of London. She told me that Frosty Faced Fogo (as he was generally known to all in his lifetime) had regularly attended the chapel attached to our Hall during the early 1800s.
Now our second Hall, which opened following the Great Fire of London in 1671, had included from its initial construction a Meeting House (or Non-Conformist Chapel) as a discrete building at the back of the Hall premises. Access to this 'chapel' was both from Staining Lane outside and internally via the Court Room. 
However this 'chapel' was not primarily built to serve the needs of the Company itself but to be a local resource for the many Londoners living in the vicinity of the Hall who were non-conformist in religion. The Company at this time was strongly Whig in its political instincts and this political bias had led out of its support for parliamentarianism in the Civil War.  These non-conformist, even puritan, leanings of the Court meant that this 'chapel' was often to be led by firebrand preachers of the day. 
So it was that for the local Londoners who attended our 'chapel' to hear the word of the Lord, it also acted as the place to record marriages and the birth and baptism of their children. The surviving records of such baptisms now in the International Genealogical Index under the entry 'Independent Chapel in Haberdashers' Hall' cover the years 1785 to 1825. 
It was thus to these records that I turned and discovered that John 'Frosty Faced' Fogo and his wife Ann baptised three children in our 'chapel':
John Fogo on 31st March 1816
Walter Fogo 10th August 1817
Jane Fogo 19th July 1818
In return for supplying this information, the enquirer was kind enough to share a bit more information about her ancestor which I was then able to follow up in more detail.
Here then is all that is known about Frosty Faced Fogo who was once a congregational member of our 'chapel', indeed the only one currently known about in any detail.
Perhaps unsurprisingly John Fogo was nicknamed Frosty Faced because of his severely smallpox-scarred face, which gave him a very startling and memorable frost-bitten like appearance. A shoemaker by trade he became a founding member of the renowned Daffy Club, which was a group of heavy-drinking boxing enthusiasts who used to meet at The Castle Tavern in Holborn. 
Records have recently been found in Hungerford, Berkshire of a headline bare-knuckle prize fight in 1827 where one of its main promoters is named to have been Frosty Faced Fogo. A newspaper report makes it clear that the prize fight had to take place outside London, it had originally been scheduled for Marlborough, but this had been prevented by the "beaks". In the event, even the Hungerford contest was broken up by the arrival of four constables, but not before three vicious rounds had taken place and quite a lot of physical damage had occurred to both combatants. 
So well-known in such boxing circles was Frosty Faced Fogo in London that he is even mentioned in passing by Charles Dickens in his novel 'The Mystery of Edwin Drood' with the words '...in days of yore [Fogo] superintended the formation of the magic circle with the ropes and stakes'. Contemporary records even show that he was sufficiently notorious to have gained the acquaintance of the Prince Regent!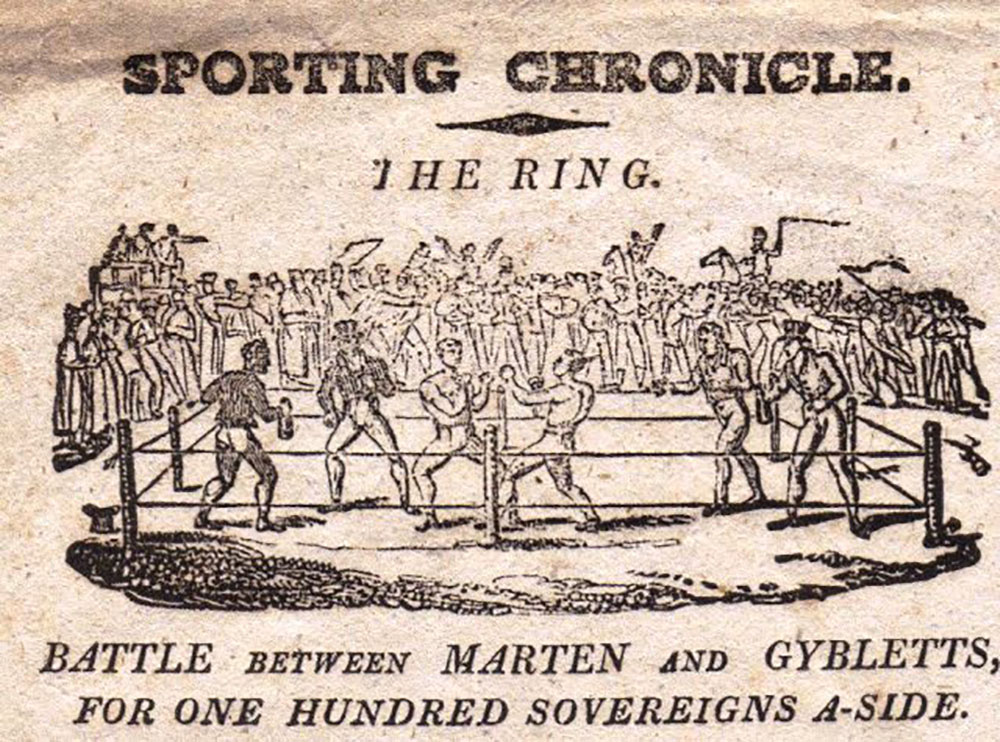 Seemingly a man of many parts, he was known as a poet, indeed sometimes referred to as being "The Poet Laureate of the Boxing Ring". This verse written by Frosty Faced Fogo is called 'Morning Reflections' and appeared in the Oxford Chronicle and Reading Gazette on 9th March 1839. Just two weeks after this poem was published, Frosty Faced Fogo died:
Who has not known that painful hour,
When from the fumes of liquor waking,
Reason, in part, regains her power,
With stomach sick and noddle aching?
Oh! how we execrate the beer,
The gin, the song , the midnight revel;
Ah! getting tipsy is divine,
But getting sober is the devil.
My memory is quite confus'd!
Why did we have another bowl in?
My mouth is parch'd, my bones are bruis'd,
And in the gutter I've been rolling!
Night after night to keep it up
Is of the system downright slaughter;
Oh! let me have of tea a cup,
And bring a glass of soda water.
Left by my comrade in the lurch,
With lobster raw - confound the liquor!
Tis time my pantaloons to search;
Ay, Jove I've lost my blunt and ticker.
Moral
Then lads, of getting drunk beware,
And from my case take timely warning;
And let your evening frolic bear
The calm reflections of the morning.
Dr David Bartle
The Archivist
---
Gilbert Shakespeare in London 
The Bard's Brother and a Haberdasher by Trade
The English poet, playwright and actor William Shakespeare is now widely regarded as both the greatest playwright in the English language, perhaps the world's pre-eminent dramatist. William was born into an affluent Guild family of Stratford-upon-Avon in 1564. He was one of eight children born to his father John (a Glover or glove-maker by trade and a town Alderman) and amongst these siblings was a younger brother Gilbert, born on 13th October 1566.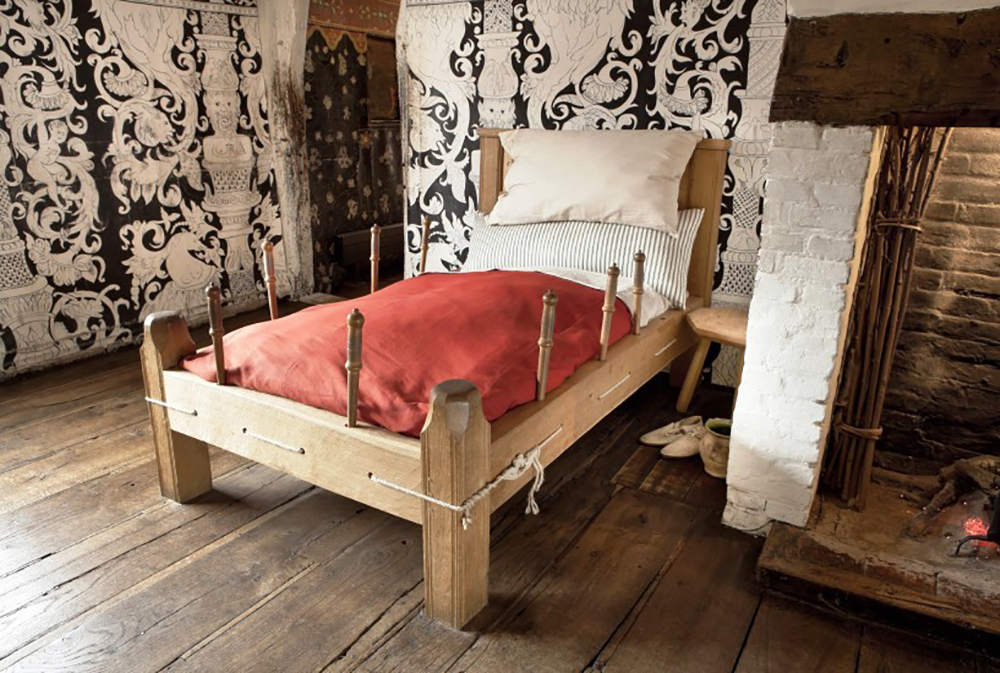 Gilbert Shakespeare was the closest boy in age to his brother William and in their early years the two boys must have shared much in common in their experience of life. In the early 1570s records in Stratford show that Gilbert contracted, but luckily survived, the plague. It is also known after this that William attended the grammar school in Stratford and it is almost certain that Gilbert did so too. Similarly both must have seen civic life in Stratford through their father's aldermanic town role and no doubt they saw a lot of his trade activity as a Glover and those of his many town contacts in their allied trades (perhaps even including haberdashers). Some of these tradespeople probably are reflected later in William Shakespeare's plays - such as 'A Midsummer Nights' Dream'.
Then suddenly in the late 1590s and aged nearly 30 years of age, Gilbert Shakespeare is to be found working in London. Specifically this detail is known from a record of the Queen's Bench in London dated 1597 when he stood bail for one William Sampson (a clockmaker from Stratford-upon-Avon). It is in this record that Gilbert's trade is stated to be 'a haberdasher of St Bride's Parish'. 
This fact that this is given to be his occupation is of great interest as it shows that Gilbert was in some way involved with the Haberdashers' Company, or if not that, at least the trade which our Company tightly controlled within the square mile of the City. But before exploring that point further, it is worthwhile considering why Gilbert might have been able to work in this trade at all.
It is in documentary records we find that William Shakespeare is stated suddenly to be in London also in connection to a law case before the Queen's Bench court at Westminster but in 1588 -89. He is then mentioned again as part of the City theatre scene in 1592.  So it is that William was the first of the brothers to move down to London, no doubt as part of his growing ambition to succeed in the world of the London theatre. It is then known from records that it was the youngest child of John Shakespeare, Edmund Shakespeare (b. 1580) who came down after William, most probably in the late 1590s. 
Perhaps in fact Gilbert and Edmund both came down to London together following their brother William at that time? If so, they were heading into very different working lives - Edmund was to become an actor (like William himself) and Gilbert was to take up a cloth trade activity. Perhaps this was because of all his sons; it was John's son Gilbert who was the most inclined or able to take up a trade at least allied to that of a Glover.

There is nothing but speculation to suggest that Gilbert learned about glove-making or aspects of retail haberdashery either from his father or from other working experience in Stratford. There is no record to suggest that Gilbert was ever apprenticed to his father as a Glover or to anyone else in Stratford or London in haberdashery or any other similar trade. But it seems very unlikely that Gilbert could have taken up work as a haberdasher of St Brides Parish unless he did have some sort of prior knowledge or experience of the trade. 

 

Aged nearly 30 years old on his arrival in London, Gilbert would not have been a suitable candidate for apprenticeship by this time. It would have been hard and expensive for him to have joined the Haberdashers' Company by redemption and set up and run his own business in the City. So it seems most likely that he worked as an assistant to an established haberdashery business that was located in St Brides Parish.  For instance there was one such haberdashery business in Fleet Street within St Bride's Parish known to have been run by one Edward Boyce who became a Freeman of the Haberdashers' Company in 1581 aged 27 years. In addition to this working life in London, it is also thought that Gilbert paid frequent brief visits back to Stratford, as did his brother William.

Recent research at the Guildhall Library has pointed to the likelihood that some sort of informal 'licensing' of non-freemen to work in the City of London for an established business was in operation during the 16th Century and perhaps long before. This would have been the precursor to the recorded formal registration process for such 'licensed working' that was to become formalised in City licence books from 1750. 

 
Records of the Haberdashers' Company agree with the Guildhall Library that the level of required employees - just in regulated haberdashery outlets and businesses across the City of London for instance - must have far exceeded the number of Company recorded apprentices and freemen available to work there. So there must have been other authorised and experienced labour to draw upon that was not made up of Livery Company members and it is into this sector of 'haberdashery employment' that Gilbert would seem to fit. 
Further to this, we only know that by 1602 and after around 6 years 'haberdashery work', Gilbert had abandoned his peripatetic working life in London and returned to live permanently in Stratford-upon-Avon. His untimely death occurred in 1612 aged just 46 years. Edmund died in London in 1607 aged just 27 years and William - who also returned to Stratford - in 1616 aged 52 years. 

My thanks to Elizabeth Scudder, Principle Archivist, LMA and Murray Craig, Clerk of the Chamberlain's Court.
Images courtesy of The Shakespeare Birthplace Trust
Dr David Bartle
The Archivist
---
John Banks
An Enigmatic Company Benefactor
John Banks was born c.1652 and became a Citizen Haberdasher and Mercer (by trade) of the City of London. He was connected with the Levant trade by way of silk dealing. Admitted to the Freedom of the Haberdashers' Company in 1672, Banks became Master in 1717, and died the following year. All that is known about his family is to be found in his will and the associated tree of beneficiaries that has developed from it. From this document he is known to have had two half-brothers and three half-sisters. It is sadly fair to say that in many ways the life of John Banks remains an enigma to us today.
 

Banks's early years occurred in a notable period of turmoil in British history: he was born during the interregnum, just three years after the execution of Charles I. But it was also a time of increasing national prosperity, as foreign trade was growing in importance to this country. In the midst of this growing prosperity, however, there were many poor people applying for relief from the parish, and so it fell to the newly prosperous merchant tradesmen to play a large part in the alleviation of this widespread poverty. In fact merchants and tradesmen were responsible for some 70% of charity and charity endowments in the 17th century.

So it was in this context that the hugely successful John Banks decided to set up a Charitable Trust, to be administered by the Master and Wardens of the Haberdashers' Company, and part of his benefaction was that certain 'sums should be annually paid, for putting out apprentices, helping to set up in business, or towards the marriage of the descendants of my relations, in such proportions as my Trustees should think fit.' Thus as succeeding generations claimed their benefits under this bequest, each had to state the basis of their claim and this meant they had to provide documentary evidence of their parentage etc, to the trustees of the charity and how it linked back to one of the half-siblings of John Banks. This evidence may have taken the form of sworn statements or, after 1837, registration certificates.

These 'genealogical' details were meticulously recorded by the Haberdashers' Company because in John Banks's will, the Master, Wardens and twelve Assistants were appointed as his Trustees (this Trusteeship document has recently been discovered and now hangs in the display room of the Hall). In return for this work he left money to provide the Court with dinner after their half-yearly Trustee meetings and it is this act that is the origin of today's annual banquet in his honour. The noting of the relationships of the various claimants has today resulted in a large `family tree' of claimants, which stretches back to 1716. The cash benefaction relating to kin was wound up only some years ago, due to the 'too numerous applications and much dwindling sums.' In its course it had been in existence for approximately 260 years. 

Meanwhile many other charitable payments are included in Banks Trust, making funds available to poor and elderly men and women, inhabitants of parishes such as Battersea, St Benet Paul's Wharf and St Mary Overy in addition to several annuities to specific relatives; all together the bequests totalled £912. The poor people were selected by the Company acting as trustees as being suitable persons to benefit from charity; many of them were of the yeomanry, or widows of freemen. 
To provide funds for this Charity, John Banks bequeathed his leasehold estate in St. James' Parish, Westminster along with property in Clerkenwell to the Master and Wardens of the Haberdashers' Company and their successors, upon trust, to pay out of the rents and profits and residue of same the sum of £10,000 and interest. This estate originally included 72 houses in Westminster, held by lease under the Crown, and two further freehold houses in Clerkenwell. Banks left instructions that the lease from the Crown was to be renewed upon expiry, but in 1822 the Company were advised by two consultants that the terms of renewal of the lease were `unreasonable' so the lease was not renewed and the 72 houses in Westminster ceased to form part of the charity.
One can only guess at the likely value of these properties to the trust had they still been part of its assets.
Amongst the charitable bequests there is an intriguing instruction to make a payment of £2 per annum for a sermon to be preached on each of the 'half-yearly days' (ie every six months) at the meeting house/chapel that once adjoined the 2nd Hall; this seems to raise the possibility that John Banks was a non-conformist by religion but it is also recorded that he was buried 'beside the Bishop of Winchester's Palace in London' (now the site of the Borough Market), so for this to have been possible it seems unlikely that he was overtly known to be a religious dissenter. 
Dr David Bartle
The Archivist
---
William Hogarth and his Haberdasher Uncle
Researches done by Dr Ian Archer, Liveryman, for the 1991 volume of our Company History showed that one of the areas trading haberdashers of past centuries owned shops in the City was on old London Bridge and its environs.
So it was that as late as the 18th Century one Edmund Hogarth (1672-1719), uncle of the famous artist William Hogarth, owned just such a shop. Edmund was in fact a wealthy merchant and also owned a victualler's business (that may have grown out of a haberdashery shop) at the sign of the Red Cross which was close to London Bridge - on the City side of the river. 
At the start of his career Edmund had purchased his freedom of the Haberdashers' Company on 8th February 1705/6 by Redemption and it was soon afterwards it appears that he arrived and set up his business in London.  
It is most probable that he would have been apprenticed outside London, around 1698. On 12th August 1707 Edmund secured a license to marry Sarah Gambell, thirty years old and a spinster of St Swithin's parish. His own age at that time is given as thirty-five and this age suggests that either he was apprenticed later than the usual age or could not afford to purchase his freedom of the Haberdashers' Company for some time after his apprenticeship had ended.
When visiting his uncle, the young William Hogarth would have seen the great stone gate at the southern end of the old London Bridge (close by where his uncle Edmund lived and worked) and with it the exhibited heads of traitors and other malefactors would have been clearly visible in all their horror - much replenished as they had been after the Jacobite rebellion of 1715. 
William Hogarth had been born in 1697 at Bartholomew Close, Smithfield (close by our present Hall) one of several children to Richard Hogarth who was a poor Latin school teacher and textbook writer, and his wife Anne Gibbons. In his youth William was apprenticed to the engraver Ellis Gamble in Leicester Fields, where he learned to engrave trade cards and similar products.

The young William took a lively interest in the street life of London and especially the London fairs (such as Bartholomew's Fair in Smithfield), and amused himself by sketching the characters he saw. Around this time, his father, who had opened an unsuccessful Latin-speaking coffee house at St John's Gate in 1703, was imprisoned for debt in Fleet Prison for five years. William was so ashamed of this that he never spoke of his father's imprisonment.

When Edmund died suddenly in 1719 he was aged just 47 years old but it appears he had by then cut his brother Richard's family, including William, out of his will. As mentioned above Richard Hogarth was William's impoverished father, he had in fact died in 1718. This hard-heartedness seems to have led the embittered William to recreate his uncle and his City dwelling very unsympathetically in his portrayal of the miserly merchant and his mean (i.e. miserly) quarters in one of his paintings series - 'Marriage-a-la-Mode 6, The Lady's Death' c.1743. Note that old London Bridge can be seen outside the window of what is undoubtedly his uncle Edmund's house in this picture.

The Marriage à-la-mode series of paintings 1743-1745 presents the story of the fashionable marriage of the son of bankrupt Earl Squanderfield to the daughter of a wealthy but miserly City of London merchant (for whom William appears to have had his Haberdasher Uncle Edmund in mind). It all starts with the signing of a marriage contract at the Earl's luxurious mansion and ends tragically with the murder of the son by his wife's jealous lover and the subsequent suicide of the daughter in her merchant father's house in London after her lover is hanged at Tyburn for the murder of her husband (as is depicted in this painting).

 

Source: Records of the parish of St Magnus the Martyr (first noted in Le Hardy's 'William Hogarth'; records of the Haberdashers' Company; Bishop of London's Register, The Publications of the Harleian Society, 26 1887).
Dr David Bartle
The Archivist
---
Ambrose Witt
A snaphot of Employment in a Victorian Livery Company
Late in 1854, Ambrose Witt was appointed Under Beadle/Porter of the Haberdashers' Company.  Astonishingly on 8th September 1856, the Court of Assistants was to receive a letter from him – requesting an immediate increase in his wages!  
Now it should be noted that Ambrose was initially appointed to the post on a temporary basis. In his application he describes himself as having "done the duties of Porter since the pulling down of the old buildings". This remark was probably his reference to the 1854-56 substantial redevelopment of our 2nd Hall, which included the addition of an extra floor. 

In response, the Court decided to set up a special Committee to consider both his request over pay and the terms of establishment of a permanent Under Beadle/Porter post. The Committee reported on 7th October 1856, and in the archives there is a full copy of the Committee's findings in our Report Book (Vol 9 pp 385-87):

The Committee began by looking at the annual earnings of the previous Under Beadle/Porter which had been made up in the following manner
The Committee decided the Under Beadle/Porter was no longer to remain in accommodation supplied by the Company, nor to receive a Christmas box, an allowance at Livery Dinners, fees on bindings or admissions, nor any coals or candles! Furthermore they recommended a reduction in his salary! :
While £100 per annum was now to be paid quarterly by the Company, in addition to this only the combined monies from the charities which came to £7 13s 4d per annum were to be added – making a new total salary of £107 13s 4d. The Committee stipulated there would be a clothing allowance of one 'dress' and one 'undress' livery "of a plain pattern" with a hat, all to be renewed every year. The Under Beadle/ Porter was to pay his own income tax, and there would be just one calendar months' notice on each side of intention to terminate employment.
But worst of all for Ambrose, the Committee decided that the post was to be thrown open, and a notice of the vacancy was to be pinned up on the board outside the Hall entrance in Gresham Street for the public at large to see.
The notice made clear that it was not necessary for the successful applicant to be a Freeman of the Haberdashers' Company (which Ambrose was not), but that preference would be given to a married Freeman of the City, who must not be over 40 years old. The Committee also outlined the duties, which were:
Open and secure external and internal gates and doors to the Hall and premises morning and night, at whatever hours were directed.
Sweep the foot pavement and kennels around the building each morning before 9am, and sweep daily and wash when required the paved passages.
Light the office and other fires as required, and fetch up the coals.
Keep clean and in proper order the Hall, offices, rooms, kitchen and all furniture, and prepare the rooms for Company meetings.
Take out and deliver all summonses for Company meetings, also rent and insurance notices, invitations for Court and Livery dinners, "and wait at the same".
Be in constant attendance and go on all messages on Company business, and generally assist the Beadle as required, to have no other occupation or be absent without leave.
Be considered Assistant to the Beadle, subservient to his orders if not otherwise directed by the Clerk; generally to be under the Clerk's orders.
The hours were to be 7am-6pm, "sufficient time to be allowed him for Dinner"! 
The Committee's report was accepted at the Court of Assistants held on 13th October 1856, and by 11th November the Committee had identified 3 candidates for election by the Assistants:
John Chaney    aged 34
Joseph Fitch    aged 39
Ambrose Witt    aged 32
A suddenly proposed motion to postpone the election until after the Livery dinners was lost by 15 votes to 6, and then… Ambrose Witt was narrowly elected to the post which he had previously been filling on a temporary basis.  The Court of Assistants held on 8th December records the receipt of his letter of thanks for his appointment, but (as is sadly usual in such fascinating cases) the minutes do not give us the text of this letter.
Then nine years later, on 6th June 1865, the Court of Wardens considered arrangements to be made "upon the Under Beadle/Porter's 'going into residence' in recently vacated accommodation in the Hall. 
It was stated that Ambrose had to "provide himself with House Room, and Coals and Candles", and the annual value of the house was assessed at £20 free of taxes and repairs, while the value of coals and candles was thought to be £8. As a result of getting this new benefit, the Court of Wardens recommended Ambrose take a cut in pay - to £80 plus the £7 13s 4d from the charities. And if in agreement, that he be allowed to take up the apartment in Haberdashers' Hall, Staining Lane. The Company somewhat relented and finally offered to pay rates, taxes and repairs on his behalf, and to supply coals and candles.
Then on 7th May 1872, the Court of Wardens finally seemed to respond to Ambrose's original request for a wage rise in 1856 by awarding him an extra £10 pa, but on 17th September his duties were augmented:
"The Porter and his Wife shall have the charge under the Beadle's directions of all the rest of the building, comprizing the great Hall and the entire of the apartments, entrances and Staircases on the ground and basement floors, also of the lavatories and staircases leading to them, the whole of which are to be kept by them constantly clean, and in good condition.This will not include Mr Curtis's offices, and the Staircase leading to them".
We next hear of Ambrose on 1st November 1875 when the Court of Wardens read an application for financial assistance from him "on account of his extra expenses through long illness in his Family", in response they granted him £20. After that, nothing more is heard until a Court of Assistants meeting on 8th June 1896, when an unspecified letter sent by him was referred to the Officers' and Clerk's Committee. 
We can infer that this was his letter of resignation, as - assuming his age to be accurately given on his appointment - he would have been 72 by then. On 12th October Ambrose is described in retirement as "late our Under Beadle" and he was elected to receive 2 pensions of £50 pa each out of the Aske charity.
Finally we read that at a Special Court of Wardens held on 9th July 1896, Ambrose was admitted to the Freedom of the Company by Redemption and his last address is given – in a Company almshouse at 3 Staining Lane.
Dr David Bartle
The Archivist