The Livery Academy Award Finals were held last night (31 January) at the Mansion House.
Established in 2013, the Livery Academy Awards are designed to foster entrepreneurial and presentation skills among sixth-form students as well as build links between Livery Company members and the Academies with whom their Company is associated. In our case, those schools are Haberdashers' Hatcham College, Haberdashers' Knights Academy, Haberdashers' Crayford Academy, all part of the Haberdashers' Academies Trust South in SE London, and Haberdashers' Abraham Darby and Haberdashers' Adams, both part of the Adams' Federation in Telford, Shropshire (this year's finalists).
Teams from each school develop and present a pitch to investors to raise up to (a hypothetical) £500,000 to launch a product or service that they think will be not only commercially successful in the UK, but also generate a material social benefit for target customers and/or society as a whole.
Six amazing sixth formers from Haberdashers' Knights Academy represented The Haberdashers' Academies Trust South and all Haberdashers' schools, with their company Finlite.

Their idea was all about empowering young people to take control of their financial literacy so they can be smart about how they manage their money - an essential life skill.
"As young people, we need to be exposed to this type of information so we're not at a disadvantage when it comes to earning our own money and managing it properly." - CEO of 'FinLite' Benedicte
Finlight gave an excellent presentation, passionate and confident, and the judges as ever had a very tough decision to make.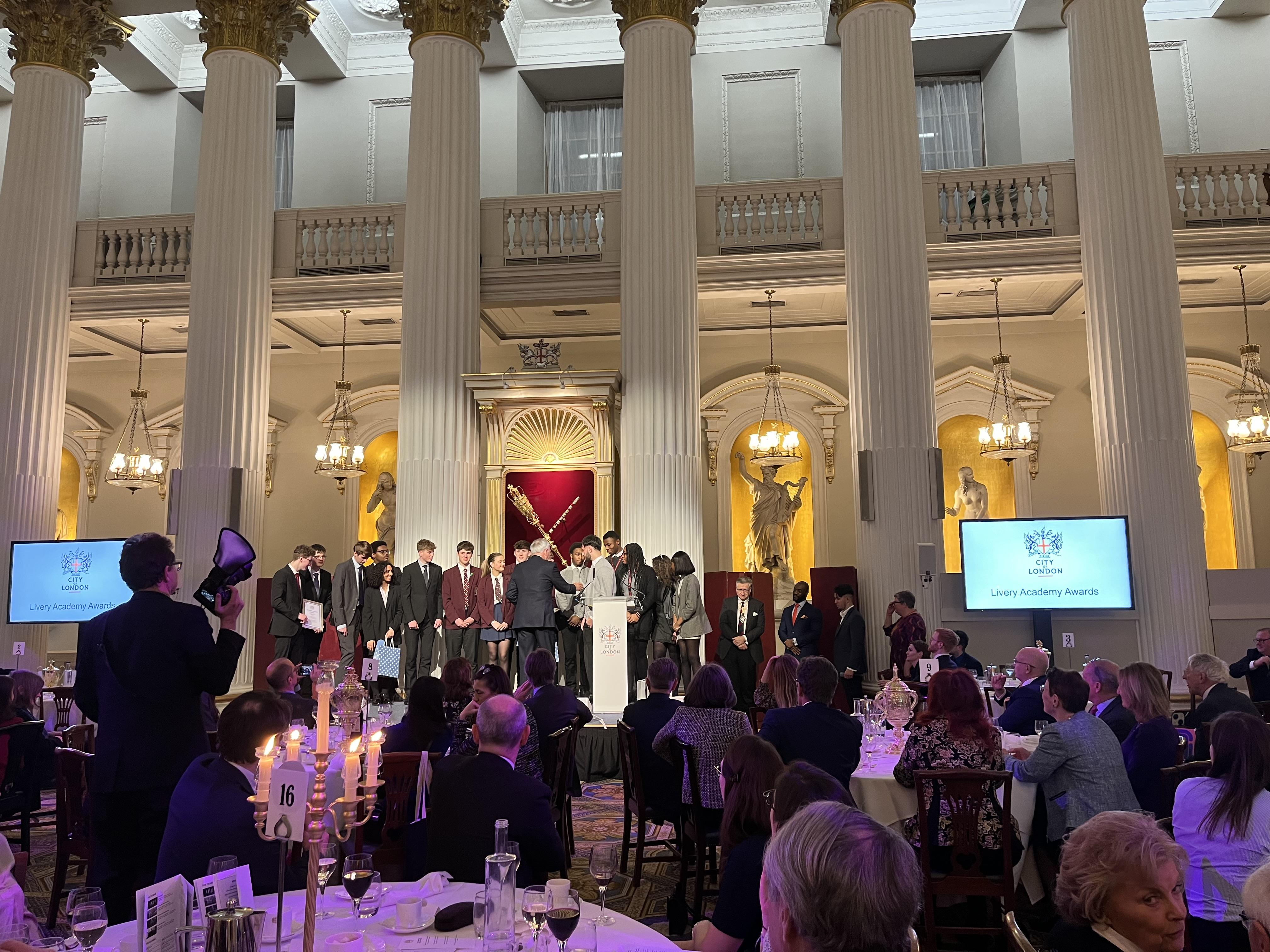 All the contestants on stage, receiving their prizes
The overall winners were Mossbourne, based in Hackney, and backed by the Grocers' Company.  Their company, Clozo was founded on the premise that a horrifying proportion of unsold clothes get burned. Their idea was to buy back the unsold stock and to sell it on, without labels, at a fraction of the original price. Many congratulations to Mossbourne, and to eveyone took part - the standard was truly excellent.