Master & Wardens Election 2021
On 18th November 2021 the Company's new Master and Wardens were elected for the ensuing year.
They are: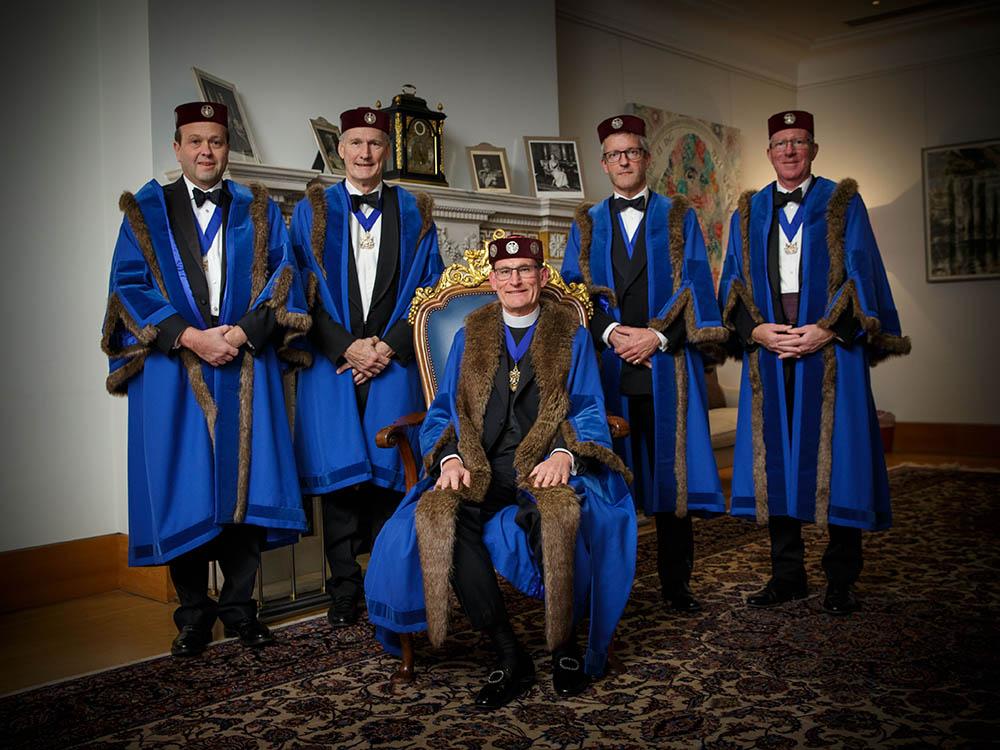 The Master

The Rev'd James Power

James is an Old Monmothian who joined the Company as one of the late Past Master David Sime's "Jubilee Apprentices". He read Chemistry at the University of Nottingham and Theology at the University of Leeds and King's College, London. He was ordained in the Church in Wales before becoming Chaplain to Harrow School in 1989; since 2015 he has combined that role with being Vicar of St Mary's Harrow on the Hill.

He has chaired the Charities Committee and he has been a governor at Adams, Newport and the Hatcham Federation. Last year, he "captained" the victorious Company shooting team at the recent 7 Rifles Range Day. He is serving as Chaplain to the Lord Mayor, Alderman William Russell and he will continue to fulfil that role as the Lord Mayor serves a second year.

Outside the Company, he has chaired the School Chaplains' Conference and the Harrow Club W10 which played a major role in the aftermath of the Grenfell Tower disaster.

Interests include art, theatre, riding (occasionally) and walking in the Welsh and Irish mountains. Married to Fiona, a teacher who is on the Livery of the Cutlers' Company, they have two adult children, both Freemen, Huw who is an army officer and Kitty, working in community drama.

 
 

First Warden

Chris Hardie

Chris was educated at Glenalmond, in rural Perthshire, before a move to sunnier parts at Exeter to read Economic History. After qualifying with Price Waterhouse he joined a broking firm which was taken over by Kleinwort Benson at the time of Big Bang (mid 80's). He's currently a Director of Corporate Finance at WH Ireland, a boutique investment bank/wealth manager. Chris has been married to Emma for 36 years and has two daughters and a son ranging from 34 to 25. 

He's now Chairman of Governors at Crayford Academy, part of the Aske Federation, having previously been a Governor at Monmouth, where he chaired the Finance & Estates committee. Chris is an enthusiastic if poor golfer and real tennis player, and occasional cyclist around (but not up) the South Downs in West Sussex.

 

Second Warden

Rupert Elliott

Rupert is a partner at Hakluyt & Company which provides strategic advice to investors and corporate decision-makers on the opportunities and risks facing their businesses. Before that he was a barrister practising in The Temple in London, specialising in media-related law (libel, slander, privacy). He is a trustee of the spinal cord research charity, Wings for Life.

He has been a Haberdasher since 1985 and joined the Court of Assistants in 2006. He has served as a governor of our multi-academy trust in South London (Haberdashers' Academies Trust South).

Third Warden

Julian Gregory

Julian's early career was at the Confederation of British Industry where he ran their commercial activities before moving into publishing with a fast growing start up.  In 2005 he started his own media business with offices in a number of international cities publishing magazines, websites, events, inflight TV and conducting research in the travel and meetings sectors. More often to be found on a plane, he has been rather more grounded since the onset of the pandemic.  

He is also a director of private property investment company in SE London. He is a Governor at Elstree and member of the Foundation Sub-Committee. He is married to Caroline and lives in Weybridge with his four daughters. Before family life got rather busy he served for 23 years in the Army Reserve and enjoyed diving, shooting, sailing and tennis.

 
 

Fourth Warden

James Penney

Having started out as a theologian, academic then strategy consultant, James is now an 'old economy' entrepreneur as chairman of a fund management company he helped to set up in 2007.  He manages three funds, two of which invest in acquiring and running UK holiday parks, as well as a recently launched third fund investing in bereavement services.  He is also a director of a Finish fund specialising in 'clean tech' businesses.  Previously he helped establish a microfinance bank in the Philippines.

James is chairman of governors of the Adams Federation in Shropshire and a member of the Foundation sub-committee. He is married to Alice, with two daughters, Emma (24) currently working as a freelance journalist with LBC and Times Radio, and Helen (22) now in her final year at London Studio Centre training to be a professional dancer.
In his copious spare time, James enjoys rugby, golf, and fast cars.