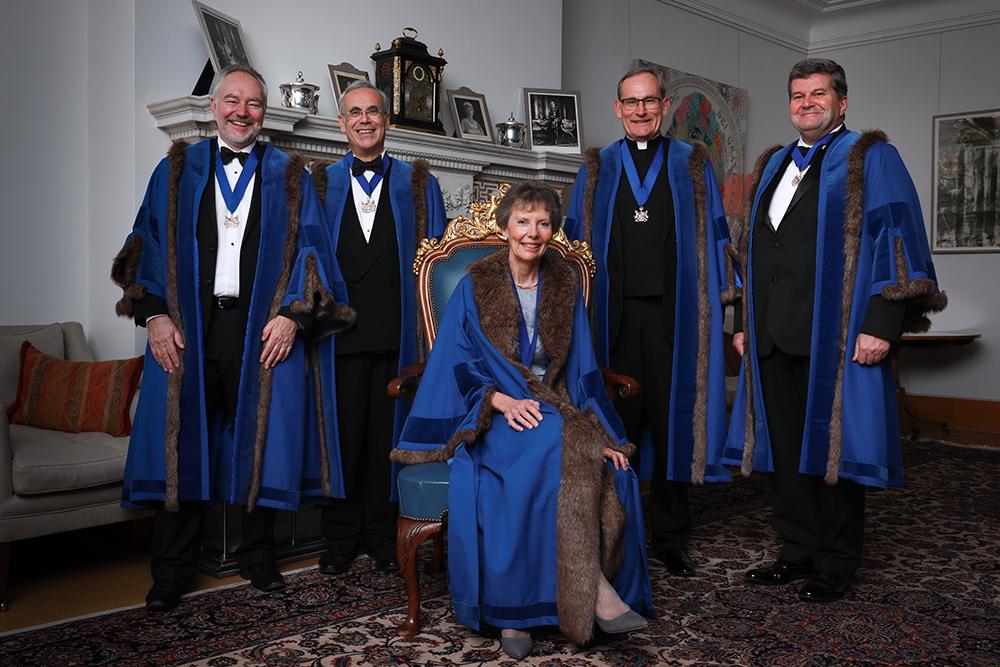 Master & Wardens Election 2019
On 21st November 2019 the Company's new Master and Wardens were elected for the ensuing year.
They are:
The Master

 

Caroline Davis

Caroline is a Haberdasher because she worked for Schroders for 30 years and when Schroders moved to Gresham Street the office was on the site of the old Haberdashers' Hall. A small combined charity was created and Caroline was one of the Schroders trustees. She was soon co-opted onto the Haberdashers' Charity Committee and then became increasingly involved with all aspects of the Company, becoming a liveryman in 2007.

As much as Caroline had really enjoyed investing pension fund and charity portfolios in the pre Big Bang era, it had been the history of the City which had initially attracted her. In fact that had prompted her to change at the end of her first year at Cambridge from reading Natural Sciences to reading Economics (Economics also left afternoons free to play tennis). From the early 1990s Caroline held a variety of part time roles within Schroders, most satisfying of which was developing the charitable giving and community volunteering schemes.

Caroline has been a Governor of the Haberdasher Monmouth schools and particularly enjoys the wonder and enthusiasm of young children. She likes spending time with a variety of people, which is good when she lives in Shepherd's Bush and is involved with a very diverse church.

She is married to Simon and they have three adult children and four grandchildren who are wonderful at keeping her life in perspective. When she has free time Caroline loves to walk, ski, read or take photographs.
 
 

First Warden

 

Daniel Hochberg

Daniel was educated at Haberdashers' Aske's School, Elstree, and at Oxford, where he first read, and then taught, Law.  Daniel practised at the Chancery Bar in Lincoln's Inn for over thirty years, specialising in trust, property and professional liability law.  He is a now Bencher of Lincoln's Inn.  He is a long-standing member of the Charities and Wine Committees of the Haberdashers' Company and he was a school governor at Elstree for 17 years.  His other interests include music, especially playing the harpsichord, going to the opera and the theatre, foreign languages, particularly Italian, since he usually he visits Italy twice a year at Easter and in September, food and wine, motoring, and travel.  His recent trips have included Laos and Thailand, as well as Namibia and South Africa.  He is married to Tamasin, who has also recently retired from legal practice and is a freeman of the City of London Solicitors' Company.

 
 

Second Warden

 

James Power

James is an Old Monmothian who was one of the late Past Master David Sime's "Jubilee Apprentices". He read Chemistry at the University of Nottingham and Theology at the University of Leeds and King's College, London. He was ordained in the Church in Wales before becoming Chaplain to Harrow School in 1989; since 2015 he has combined that role with being Vicar of St Mary's Harrow on the Hill. He chairs the Charities Committee and he has been a governor at Adams, Newport and the Hatcham Federation. This year, he is serving as Chaplain to the Lord Mayor, Alderman William Russell. Outside the Company, he has chaired the School Chaplains' Conference and the Harrow Club W10 which played a major role in the aftermath of the Grenfell Tower disaster. Interests include art, theatre, riding and walking in the Welsh and Irish mountains. He is married to Fiona, a teacher, and they have two adult children, both Freemen, Huw, an army officer, and Kitty, a drama student.
 

 
 

Third Warden

 

Simon Cartmell OBE

An Old Monmothian whose experience of Haberdashers was limited to shaking hands with Wardens in blue gowns on Speech Days, Simon studied medical microbiology before embarking on a commercial career with Glaxo, followed by CEO/COO roles in two FTSE 100/250 biotech firms. In the mid-noughties, when running a Venture Capital backed medical device business based in Elstree, he was reminded about 'Serve and Obey' by his then CFO, Past Master Bruce Powell. 12 years later, Simon is Chairman of the Aske's Board, a role he combines with several NED/Chair roles in health technology start-ups, in Sweden, Switzerland and the UK.The other lasting impact of Monmouth was a passion for (English) rugby. Simon is married to Beth, an equally passionate Welsh rugby fan and has two boys, Dan (Welsh - and who has recently joined the Company) and Tom (English) ... which make family dynamics interesting in the spring!

 
 

Fourth Warden 

 

Roddy Barrow

Roddy is a Chartered Accountant who qualified with KPMG in 1990. He has worked in various sectors from life sciences, glass manufacturing, media with Panasonic, publishing with The Book People and more recently in welfare to work and for the last 5 years recruitment with HR GO plc, which he joined as CFO in 2014 and of which he is now Group Managing Director. After introductions as the Clerk's son, Roddy joined the Haberdashers as an Apprentice. He has been a Governor of Haberdashers Adams School and Haberdashers Abraham Derby for the last 5 years and joined the Finance committee in 2018. Roddy has played cricket, croquet and golf, has sailed and skiied for the Haberdashers despite breaking his neck in 1982. Playing such sport he has found enjoyable but most importantly a way of getting to know others in the Haberdashers... he would commend it to all! Roddy lives near Farnham, Surrey, and is married to Dawn with whom he has three children, Charlie (Freeman) Katie and George (Apprentice).